Lucid Drone Tech Customer Success Profile: Ryan Godwin, Owner, Godwin Cleaning Services.
11 comment(s)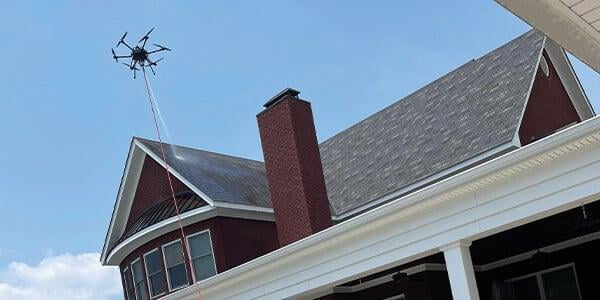 With the rise of new technologies and sciences, it's not surprising that many people are hesitant about embracing drones for their business needs.
After all, we've been there before when computerization was first introduced to the business space. But what if you're one of those who are still on fence? Maybe you're reluctant. I mean, drones are new and maybe a bit daunting...
The Lucid Drone Technologies C1 Cleaning Drone can take your business to the next level, and after you read this blog post, any doubts will be cleared up before tomorrow morning rolls around again.
But don't just take our word for it. Take it from one of our valued customers, Ryan Godwin, owner of Godwin Cleaning Services, an exterior cleaning business servicing commercial and residential properties.
Ryan Godwin had a similar hesitation when it came to using drones to help his business. "I mean, you know not and I was really skeptical. In the beginning, of course, because I didn't know much about it. And it took me a while to decide to pull the trigger." Godwin Cleaning Services finally did pull the trigger, and now, it's paying off in a big way.
After using the drone, Godwin knew that a Lucid Drone Technologies C1 Cleaning Drone would become a game changer for his business. "I knew I had to incorporate it into my business." He added, "I bought this and you know, I've had it for what a month now. And I've already executed like four jobs with it for big names."
Lucid Drone Technologies C1 Cleaning drone has been a game changer for many industry professionals, and for most, it's considered their secret weapon. "I'm glad it's my secret weapon." said Godwin, "it's the game changer that I needed to, really, really push it."
Truthfully, we succeed when our customers succeed. That's why we go through extensive testing and development to ensure that our drones are effective and profitable for our customers. "But I'm just gonna tell you now. And not just because y'all are the manufacturers of it. I mean, it's probably the best purchase I've made for my business."
Additionally, our cleaning drones have cut down the time it takes to complete cleaning jobs the traditional way by increasing efficiency by 80%. "If I was using the traditional lift I mean, this is a two three day project." Said Godwin. "I've actually been counting my cleaning time. Total cleaning time. It's been about four hours today."
Lucid Drone Technologies was founded on one key principle: safety. Slips, trips and falls are the number one cause of injury on a job site. Cleaning drones are making it possible to reduce liability and increase worker safety by 95%. "I'm not hanging off a lift, you're still spraying. I'm just not hanging off a lift brand. You know, the only difference is I'm safer on the ground." Said Godwin.
It also helps that cleaning drones are really cool. "I'm telling you, I've had an audience all day." said Godwin.
Drones are changing the world, but Lucid Drone Technologies is leading by example. We have created a smarter way for professionals in cleaning industries to do their jobs - safer and faster than ever before.
"It's a game-changer!"
Curious about how you can take your business to the next level? Just contact us by filling out our contact form or by calling us at (980) 498-1894 .