Lucid Drone Technologies Taps T-Mobile to Power Commercial Cleaning Drones
11 comment(s)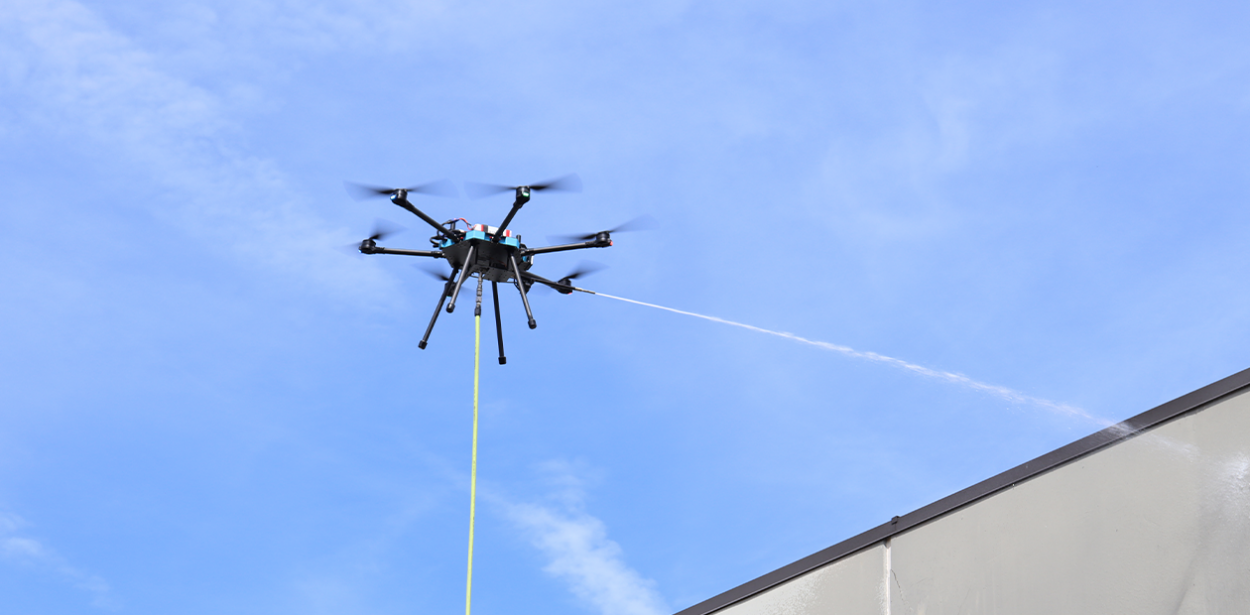 Lucid Drone Technologies Teams with T-Mobile to Power C1 Cleaning Drones
WHAT: Lucid Drone Technologies has partnered with T-Mobile to provide IoT connectivity for C1 Cleaning Drones, which provide exterior cleaning services.
WHY: The exterior cleaning industry has a reputation for being dangerous, dirty, and disruptive. The use of Lucid Drones, in conjunction with T-Mobile's industry-leading network, can significantly reduce those risks and provide a safer, faster, and smarter way to clean.
WHO: Companies looking for a safer, faster way to clean exterior surfaces.
CHARLOTTE, NC– May 3, 2022– Lucid Drone Technologies is teaming up with T-Mobile to power exterior cleaning drones through the use of IoT connectivity. Lucid Drone Technologies, in partnership with T-Mobile, are aiming to reduce the risks for maintenance crews by using drone technology to perform high-risk exterior cleaning services, including soft-washing and high-rise window washing.
The safer way to clean
The goal of property managers and business owners is to clean properties efficiently, but more importantly, to do so in a safe and effective manner. The costly insurance premiums and safety requirements call for a new solution that combines safety with efficiency. Through a partnership with T-Mobile for Business IoT, Lucid Drone Technologies is able to reduce rental costs and prioritize safety for maintenance professionals.
The C1 Cleaning Drone from Lucid Drone Technologies is capable of cleaning external buildings, from commercial structures to stadiums, eliminating potential injury risks to maintenance workers on site.
IoT and the future of drone technologies
T-Mobile's IoT connectivity provides critical capabilities for Lucid Drone Technologies C1 Cleaning Drone:
Real-time sharing of flight data

Battery utilization information
Cleaning materials consumption
Hardware diagnostics
Delivery of firmware and software updates
Additionally, Lucid Drone Technologies can monitor and manage the network conditions and device behavior of its C1 Cleaning Drones using T-Mobile Control Center, providing near real-time visibility to monitoring network conditions and device behavior.
"At Lucid Drone Technologies, we are committed to providing robotic solutions that allow our customers to complete jobs that were once dull, dirty, and dangerous in a safer, faster, and smarter way," said Andrew Ashur, CEO, Lucid Drone Technologies. "T-Mobile not only allows us to provide our customers with the highest quality of real-time support and connectivity today, but they also have impressive 5G capabilities that allow us to push the frontier limits of responsible robotics."
"Lucid Drone Technologies is a great example of a customer using originality and new technology to solve complicated problems," said Callie Field, President, T-Mobile Business Group. "It's not very often that you get to collaborate with these kinds of thinkers, and we're thrilled to have the opportunity to offer our technology to help bring their vision to life."
About Lucid Drone Technologies
Lucid Drone Technologies is a Charlotte, NC-based robotics company that currently designs and builds industrial spraying drones for labor-intensive jobs. Lucid Drone Technologies was started in 2018, and set out to provide a Safer, Faster, and Smarter alternative to traditional dull, dirty, and dangerous jobs. To learn more, visit www.luciddronetech.com.
T-Mobile U.S. Inc. (NASDAQ: TMUS) is America's supercharged Un-carrier, delivering an advanced 4G LTE and transformative nationwide 5G network that will offer reliable connectivity for all. T-Mobile's customers benefit from its unmatched combination of value and quality, unwavering obsession with offering them the best possible service experience and indisputable drive for disruption that creates competition and innovation in wireless and beyond. Based in Bellevue, Wash., T-Mobile provides services through its subsidiaries and operates its flagship brands, T-Mobile, Metro by T-Mobile and Sprint. For more information please visit: https://www.t-mobile.com.