Our Story: Building a Customer Centric Business
11 comment(s)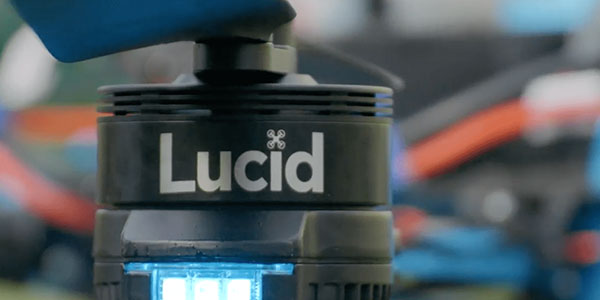 Drones will fundamentally change the world. Since 2018, the number of drones registered with the FAA in the United States has doubled from 900,000 to 1.8 million and counting. However, very few drone companies successfully prioritize customer success by making it simple to integrate and scale drone solutions.
At Lucid Drone Tech, our mission is to elevate efficiency, safety, and humanity by building the world's most productive drones. At the time of writing this article, we are working with exciting customers that range in size and shape from professional sports teams to inspiring owner/operator companies that fly our Cleaning Drone. We are a growing team, filled with brilliant engineers, empathetic trainers, and an industry-leading support team. In order to understand how we built a customer-centric business model, it's important to start this story from the beginning.
Failure to Fly
In 2018, my co-founders and I set out on a humanitarian mission. We saw workers suspended well-above ground on lifts, ladders, and scaffolds, trying to clean the exterior of buildings. Each year, there are a multitude of fatalities and life-altering injuries from using this equipment. To put it bluntly, we were appalled — how had no one found a way to leverage existing technology to make this job safer?
At the beginning of our journey, we set out on the path of least resistance, aiming to see how quickly we could prove if drones could clean buildings effectively, efficiently, and safely. To accomplish this, we bought a drone from an international company, who we will refer to as IDM (International Drone Manufacturer). Starting out, we bought one of their smaller industrial drones and built a bracket around it to conceptually show that drone cleaning was feasible. However, we soon learned that this drone was incredibly limited in its functionality. At this point in time, we had three major frustrations with our off-the-shelf drone from IDM:
The payload capabilities were underwhelming.

While we quickly proved drone cleaning

conceptually

worked, it could only get about 30 feet off the ground because it lacked sufficient power to clean at greater heights.

Having a purpose-built drone matters.

We had taken an off-the-shelf industrial drone, which lacked many of the features we needed to more effectively and efficiently clean.

We had to figure out everything on our own.

The drone company provided no training, guidance on regulations, recommendations on insurance, etc.
While these issues seem significant, we convinced ourselves that #1 was the most important, so we decided to order a larger, more expensive industrial drone from IDM. To IDM's credit, the first time we flew this new drone, we were jumping for joy. It had two extra motors, with each and every motor larger than the last drone, and it just looked like it could lift some serious weight! However, we then plugged in a new set of batteries and prepared for the second flight and…
That $30,000 drone would never take off again.
IDM had forced a firmware update after our first flight. We couldn't take off until we updated their firmware, yet once we did, the drone was then unable to start the motors. It continually recognized itself as having 6 motors, rather than 8. For months (yes, months!), we wasted endless hours on the phone, trying desperately to receive any help from their support team with no success. At long last, they admitted they had no idea what was wrong and couldn't fix it remotely, so they gave us an address to send it to half way around the world. We never saw that drone again…
While ordering the larger drone from IDM is our most regretted financial decision, it ended up being the best thing to ever happen to our company. Our abominable customer experience with this International Drone Manufacturer cost us tens of thousands of dollars in expenses, lost revenue, and missed opportunity. At Lucid, we subscribe to the motto that "failure is never final, so long as you learn from it," and this experience allowed us to learn how to build the customer centric drone company that we always dreamed of working with.
How We Built a Customer Centric Business
Easy to Use, Easy to Buy
At our company, we live and breathe this maxim and use it as a guiding beacon in all of our efforts. To the average person, flying an industrial drone seems like a daunting task. Although we build incredibly sophisticated technology, with a multitude of sensors and intelligent features, our top priority is ensuring that our drones are easy to use. The truth of the matter is that drones aren't complicated to use; what makes drones difficult is a lack of robust support.
To lower the adoption curve and introduce drone technology into old-school, sleepy markets, we offer training resources to all of our customers. It doesn't matter if you have never flown a drone before, or if you just finished your PhD in aeronautical engineering, we support our customers through each and every step of the process to successfully integrate our technology into their business operations. We offer a full-spectrum support that empowers our customers to be successful by eliminating the guesswork of incorporating new technology.
Learning from the Past Experiences
When we first started our company, we were perpetually frustrated with our drone provider. Not only was the drone itself lackluster, the support and experience of working with this company was infuriating. Once we bought the drone, we had to figure out everything for ourselves:
How do I fly the drone?
What are the regulations I need to follow?
What safety precautions should I take?
What happens if I need help? How long does it take to repair the drone?
What type of insurance do I need? How much will it cost? Who will provide this insurance?
And so much more…
All of these compounding questions and headaches inspired us to build the drone company we always dreamed of —one that puts its customers first in every way possible.
Delighting Customers
Customers are naturally drawn to a product's functionality — what can it do and how is it a better alternative to what they are currently using? In order for a customer to change what they are doing, though, it's important to clearly articulate the product's value, while also demonstrating that integrating the product into the customer's existing operations will be simple.
We sell our drones and provide our customers with all of the technology and equipment they need to successfully integrate our technology into their operations (drone, batteries, controller, transportation case, and more!). Unlike other drone companies, we understand that ensuring customer success involves much more than the technology itself.
At Lucid, our product is much more than just a drone. It's an experience.
We love building innovative solutions. But we love delighting our customers even more! We do this by making it simple to integrate our product into our customers' operations. Beyond providing our drone technology, we offer the following value to our customers with every purchase:
On-going support and maintenance. We understand industrial drones are like cars and need some care and attention from time to time. If your "brake light" comes on, we will be right there to help you fix it.
Data. We teach our customers how to leverage the data that their drone collects to provide added value to their customers.

Insurance. We have you covered! No need to waste time learning what coverage you need and how to procure it. We have a streamlined process that allows our customers to obtain cost-effective drone insurance in less than 15 minutes.

Accessories. For our cleaning drones, we provide our customers with a list of recommended cleaning solutions and help them procure it at discounted rates.
And much, much more. The examples above are just a sampling of how we empower our customers to be successful. If you want to learn more about how we delight our customers, you'll have to become one!
There's no denying it — drones will fundamentally change the world. At Lucid, we understand this and are building the dependable, customer-centric drone company. We're not just building frontier technology, we are building a company and culture that enables our customers to quickly integrate and scale drone solutions throughout their operations.