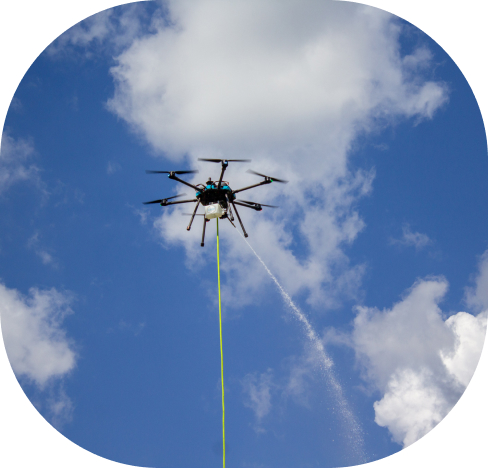 Universities and colleges, now more than ever, need to maintain a clean and safe environment for their students and faculty. In the wake of the COVID-19 pandemic, keeping campuses clean and sanitized requires a fast, efficient, cost-effective—and most importantly—safe process. That's where drones come in. From recreational use, they've evolved to be used for campus safety purposes in post-pandemic times.
Common university campus sites to keep clean include stadiums, outdoor courtyards, pathways and walkways, dining commons, student housing facilities, libraries, and other public areas. Drone-based solutions provide resolutions that are versatile enough to tackle all these types of university cleaning tasks with ease while providing a safer alternative to traditional methods like manual labor and ladders, allowing users to follow FAA rules.
For exterior cleaning companies and university facilities managers looking for an optimal drone solution (adhering to FAA regulations and federal laws) for their university cleaning jobs, the C1 Spraying Drone is the ideal fit.
Challenges Facilities Teams Face Cleaning Universities
Facilities maintenance teams are often short-staffed when it comes to cleaning universities. This makes it difficult to prioritize tasks and leaves little time to clean high-up places like windows and the exterior of buildings. This can lead to the accumulation of dirt, mold, and mildew which not only looks bad but creates a safety hazard for staff members, visitors, and students.
Lucid Drone Technologies provides an ideal solution for universities by providing a safe and efficient way to clean hard-to-reach places quickly and efficiently, thus reducing the need for personnel with height access equipment. With its easy integration capabilities and intuitive flight capabilities, Lucid Drone Technologies is making the work easier than ever before.
The danger of cleaning high points in universities or colleges with ladders and other traditional methods should not be taken lightly. In the US alone, falls from ladders are responsible for thousands of deaths and injuries every year.
These sobering statistics make it clear that any business involved in exterior cleaning should seek out safe operations. Lucid Drone Technologies is leading the way with its industrial spray drones, allowing workers to avoid dangerous ladders and reach high points with ease.
At Lucid Drone Technologies, we prioritize risk management through the use of unmanned aircraft systems. Manual cleaning processes, such as ladder climbing, can put workers in a potentially dangerous situation. In fact, statistics show that falls from ladders account for 22,710 injuries in the United States. Added to this:
Every year, more than half a million Americans receive medical attention due to ladder-related issues.

There are 62,076 non-fatal cleaning cases for days away from work.

And 645 fatalities from workers falling to a lower level and 61 fatalities in building cleaning services.
Leveraging Lucid's C1 Spraying Drones can help protect your cleaning staff and prevent such mishaps from happening in your cleaning jobs.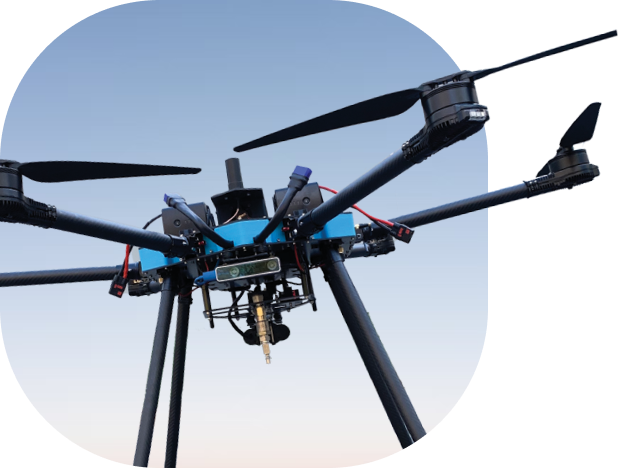 Lucid Drone Technologies Provides a Safer, Faster, and Smarter Solution
Smarter
With the use of drones, facilities maintenance teams and third-party vendors now have access to smarter solutions with robust workflows when it comes to exterior cleaning and spraying universities and college campuses, while also opening them up to bigger opportunities in the process.
Faster
By employing drone flight technology to take over tedious jobs that would normally require multiple workers on ladders and lifts, Lucid Drone Technologies enables those service providers to finish faster and move on to the next site on the university property. This means more money can be made in less time as drone use lowers the pieces of equipment that ought to be rented and fewer labor hours are needed to carry out the flight operations. Furthermore, facilities managers will be able to be more efficient with use of a drone.
Safer
Our industrial Lucid spraying drones are equipped with features that make them the perfect tool for exterior cleaning in higher education environments. This way, cleaning service providers can effectively control risks associated with heights while avoiding high insurance coverage rates.
Why Consider the C1 Spraying Drone with Soft Wash Capabilities for Campus Cleaning
Urban Flight Capabilities for Clear Control from the Ground

Exterior cleaning companies and facilities maintenance teams can now fly their drones in urban environments to clean university buildings, even where the GPS signal is weak.

Collision Prevention

The Lucid C1 Spraying Drone keeps a safe distance from exterior surfaces and utilizes advanced onboard sensors to detect and avoid obstacles to ensure public safety.

Intelligent Batteries for Extended Fly Time

Our sophisticated batteries help operators to accurately monitor the charge of each battery for a quick switch and an efficient job well done.

Self-Repair Options

The Lucid C1 Spraying Drone allows university cleaning service operators to quickly repair damaged drone components for fewer delays.

Multi-Directional Spray Nozzle

Lucid C1 drones' multi-directional spray nozzle allows operators to effectively clean hard-to-reach areas such as the exterior of buildings and dormitories.

Easy Integration

Our drone technology integrates seamlessly with any existing soft-wash pump system, allowing us to customize our tools to meet your specific needs.

If a university team or anyone needs a rig system, Lucid Drone Technologies does offer rigs for sale.
Choose the C1 Spraying Drone from Lucid Drone Technologies
As the use of drones becomes increasingly popular in the industrial cleaning market, more and more university cleaning service providers are turning to drone technology to get the job done. With drones capable of completing intense cleaning tasks without the need for scaffolding and ladders, the future of university cleaning is quickly taking flight. Not only do drones save time and money, but they are also a safer alternative to traditional cleaning methods and adhere to federal laws and UAS policies.
We believe in approaches that reduce the risk for workers involved, and the Lucid C1 drone technology helps achieve this goal more safely and efficiently than ever before. Fill out this request form for a flight request and get started.
.