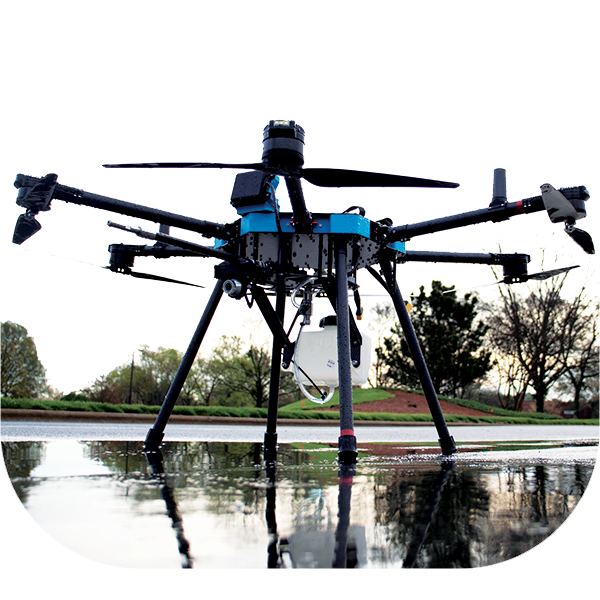 Your Pathway To Success.
Take your exterior spraying jobs to new heights with the Lucid Sherpa Drone! This cutting-edge workhorse has been improved with longer battery life, enhanced GPS capabilities, and an advanced drone flight control system to guide you through any environment.
Why Choose The Sherpa Drone?
Easy To
Fly.


Easy To

Buy.
At Lucid, we are thrilled to announce the launch of our updated Sherpa Drone. As always, we continue to live and breathe our guiding principle: Make Sophisticated Technology Easy To Use. The Sherpa Drone is no exception.

We understand that the idea of flying a drone can be intimidating, but we design our products with simplicity and ease of use in mind. Our Sherpa Drone comes equipped with intelligent features, making it a powerful tool for industrial use. However, we have made sure that it is also accessible and easy to navigate for every user.
The Best Lucid Features Available On The Sherpa Drone
Urban Flight Capabilities
Allow operators to fly safely in urban environments where GPS signal is weak.
Multi-Directional Spray Nozzle
Capable of upward and downward spraying, allowing the drone to spray hard-to-reach areas.
Self-Repair Options
Landing gear and other drone components can now be easily repaired at a customers convenience.
Intelligent Batteries
New batteries have a convenient button with an LED indicator telling the operator the current charge state of each battery.
Collision Prevention
Keep the drone at a stable and safe distance from exterior surfaces.
Easy Integration
Integrate with any existing soft-wash pump system up to 11gpm at 300psi.
What's Included With A Sherpa Drone?

The Sherpa Drone package comes with several accessories and features, including:

x1 Sherpa Cleaning Drone

x1 Controller

x1 Straight Nozzle

x4 batteries 12S

x1 12S Smart Battery Charger

x1 Repair Kit

x1 SKB Hard Travel Case

x1 battery bags

Drone U Props Online Training

1 Year Warranty

1 Year Email support

Lucid Welcome Kit
How Strong Is The Pressure Used To Clean?

Our drones can handle up to 1000 psi but we have found that the best cleaning happens using a soft wash method at 300 psi.
Can I Use My Own Pump?

You bet, just let us know what system you are using, and we will work to ensure your cleaning system is good-to-go with our drone.
Do I Need A License & Insurance To Fly The Drone?

Yes, you will need your Part 107 license from the FAA. We provide all our customers with the study material required to pass the test.

With insurance it is not required, but a smart investment. A skilled pilot should have no problem navigating a drone safely. However, we all know that accidents can happen. Therefore, it's a good idea to prepare before they do. While it may not be legally required, the cost of getting sued if something goes wrong could quickly outweigh the savings of not paying for an insurance policy.
What Type Of Controller Is Used For The Sherpa Drone?

We offer several different drone bundles designed to best serve your business needs. If you would like to learn more about drone bundles please contact our sales team.
What Additional Equipment Will I Need?

You will need a softwash pump set up, which would be mounted to a trailer or in the back of a truck bed. We have custom softwash pump rigs available for purchase.
How High Can The Sherpa Drone Fly?

The maximum height that the drone can reach depends on several factors, including the weight it's carrying and the length of the hose. The Sherpa Drone can carry up to 55 lbs of weight and reach a height of 120ft when equipped with a 3/8ths hose.
How Long Do The Batteries Last?

The battery life of the Sherpa Drone depends on several factors, including the weight it's carrying and the length of the hose. At 60 feet 3/8ths hose, the drone's battery can last up to 19 minutes.
How Do I Transport The Drone?

Our drone folds down into a much smaller footprint and can fit inside a travel case, which we can provide.
How Easy Is It To Fly?

Very easy! No prior drone experience is required. We have a demonstrated history of training individuals to successfully fly our drones that have no previous experience with drones.
What Does The Training Involve?

We offer online training through a partnership with Drone U. This includes ongoing training to our customers through our online training portal. The online training educates our customers on the knowledge they need to know to operate our drones competently and confidently, such as battery charging, flight skills, transportation guidelines, safety protocols, and more.
Drone U also offers in-person training for a fee. More information can be provided during new customer on boarding.
What Chemicals Do You Use?

Our drones are chemically agnostic, so it can handle any chemical with low viscosity. And our equipment and parts are designed to handle high levels of corrosive chemicals, like bleach.
If You Have A Question That Is Not Listed Please Contact Us & We'll Be Happy To Answer!