Efficient Drones for Window Washer Companies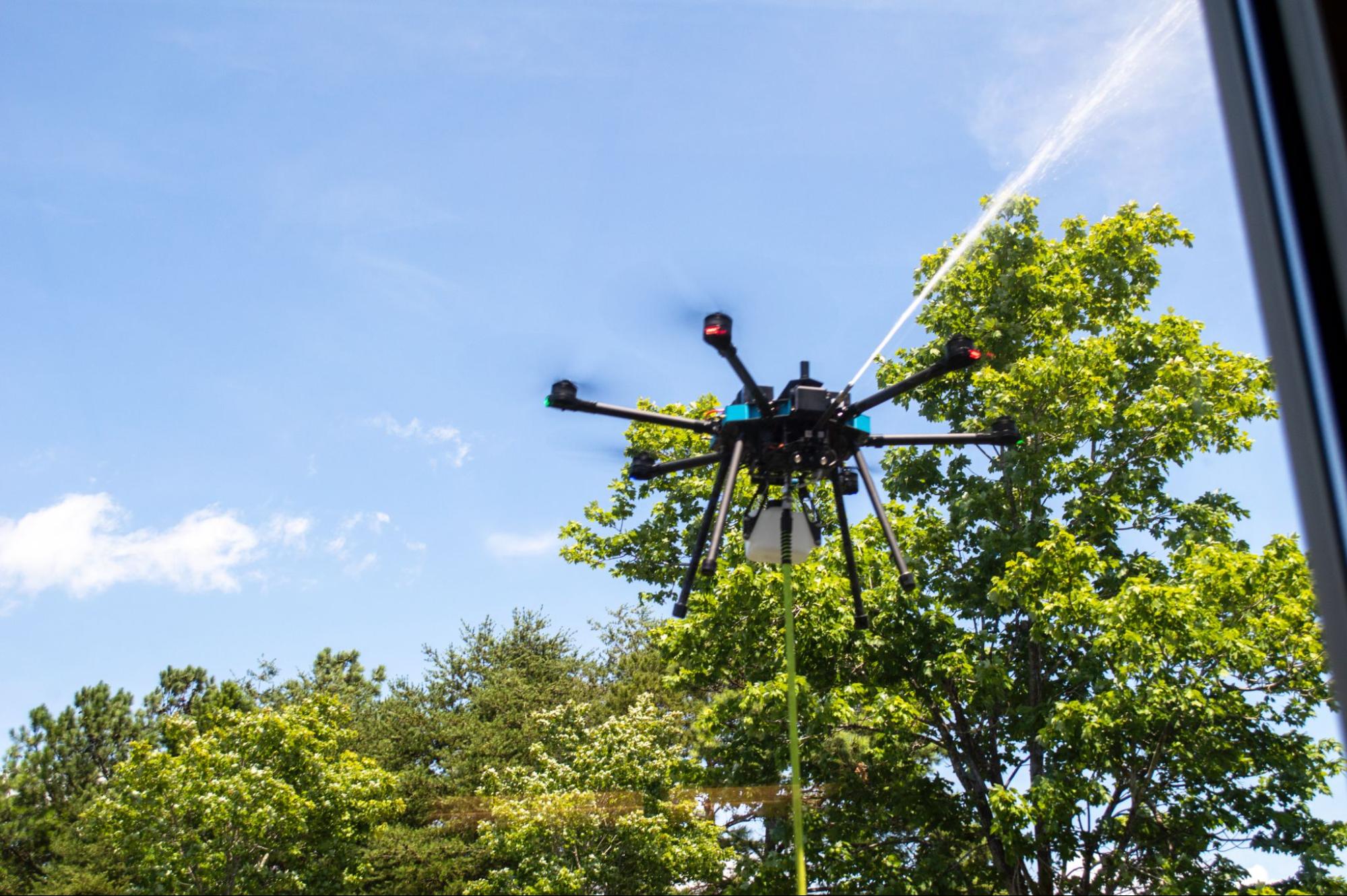 Lucid Drone Technologies offers a robust and easy-to-use C1 Spraying Drone that helps window washer companies clean windows 5x faster than traditional methods, reduce ladder-related accidents, and enhance operational efficiencies.
One of the greatest challenges for professional window cleaning companies is speed.
Window cleaning companies take varied amounts of time to complete a job using traditional cleaning methods. Some jobs require cleaning different types of windows—exterior windows, solar panels, skylights, storefronts, and glass doors—all of which require the time-consuming process of renting, using, and moving a lift.
That means a commercial window cleaning job that was estimated to take a week could easily extend to two, meaning fewer jobs your company can take on.
The C1 Spraying Drone, however, speeds up this process by allowing window cleaners to work efficiently from the ground and complete even the most challenging jobs in significantly less time.
Lucid Drone Technologies Provides a Safer, Faster, and Smarter Solution
Smarter
With the speed and safety element of the C1 spraying drone, window washing companies can work smarter, not harder, with more efficiency and control. Lucid's drones are equipped with multi-directional spray nozzles, which enable you to clean windows that would be difficult to reach with traditional methods. This opens up new market opportunities, allowing you to finish even more projects in a shorter amount of time. Your cleaning company's consistency and quality work will put you ahead of competitors still using traditional cleaning methods.
Safer
Say goodbye to ladders, scaffolds, cherry pickers, and ropes. Lucid's drones can fly up to the height of 100 feet to cater to the exterior cleaning needs of high-rise buildings while keeping your team safely on the ground.
Faster
Boost your revenues by handling more projects than you currently do at a faster speed than you're used to. Lucid's industrial drones can clean windows—without even coming into contact with the window—five times faster than manual cleaning methods.
Invest in Your Team and the Future with the C1 Spraying Drone from Lucid Drone Technologies
At Lucid Drone Technologies, we believe in "Safer. Faster. Smarter." window cleaning solutions. Our C1 Spraying Drone is the perfect solution if you are looking to provide responsible, innovative, and the best window washing services to your clients. It makes your worksites safer and enables you to complete more jobs in less time.
Get in touch with us to learn more about how our C1 Spraying Drone with its soft power washing capabilities can help you provide reliable services and meet the expectations of your clientele.
.